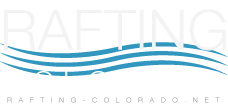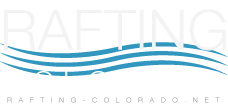 Aspen. Say the name and you immediately think epic skiing. Come spring, though, all that snowpack, all those hundreds of inches of snow come sliding down that mountain to feed the Roaring Fork River. Summer brings with it a season of whitewater rafting and kayaking you'll not soon forget. As always, be sure to check with your guide of choice regarding best time of year to raft the Roaring Fork, experience levels and water levels, to be sure your rafting vacation is a safe one.


Glenwood Canyon Rafting, Inc. - Rafting in Aspen, Colorado
A River Haven of Whitewater Fun! 39 years of experience offering professionally guided whitewater rafting trips on the Colorado and Roaring Fork Rivers. Rafting trips for all ages and experience levels. Unforgettable views of the Glenwood Canyon combined with Class III/IV Shoshone Rapids to milder trips for the less adventurous. WE ARE...a "small" company focused on Fun, Safety, and Outstanding Customer Service.
Contact Us
Toll Free: 877-384-0445
Phone: 970-384-0445
Fax:

Amenities
Ducky Rentals
Gift Shop
Children Welcome
Photos/CD Available
Activities
Rafting

Fishing

Kayaking

Rock Climbing



Blue Sky Adventures Inc. - Rafting in Aspen, Colorado
Since 1975, Blue Sky has been offering professionally guided whitewater river trips on the Colorado & Roaring Fork Rivers. Blue Sky is dedicated to providing a whitewater experience that exceeds any of your expectations. Dedicated to safety, service, professionalism & fun.
Contact Us
Toll Free: 1-877-945-6605
Phone: 970-945-6605
Fax: 970-945-9690


Rafting Trips Offered
1/2 Day
3/4 Day
Full Day
Multi Day
Amenities
Continental Breakfast
Dog Kennel
Ducky Rentals
Gift Shop
Lodging
Restaurant
Children Welcome
Hot Showers Available
Photos/CD Available

Update: Water is being released from Shoshone Hydro Plant, flows have spiked to 8000 CFS this morning. Be careful out there!

- about 1774 days ago

Love the river life. Not a bad view from our office, eh? #getaway #riverrat #gopro #rafting http://t.co/xQoLi1HMHE

- about 1774 days ago

Colorado River just hit 5000 CFS at Shoshone!

- about 1775 days ago

Good morning from Blue Sky Adventures! http://t.co/yZLj72KfZH

- about 1775 days ago

RT @blueskyraft: The Colorado went up AGAIN last night. That's the rafting equivalent of a powder day. Check it out here: http://t.co/LVV9f1

- about 1779 days ago

The Colorado went up AGAIN last night. That's the rafting equivalent of a powder day. Check it out here: http://t.co/LVV9f1w2Hy

- about 1779 days ago

There aren't a lot of bad days here @blueskyraft, but today is one of those really good ones. http://t.co/LisUqROWI4

- about 1779 days ago

High temps brought a spike of 1000 CFS last night. Get some before it's gone! http://t.co/7NgxLHHvnB

- about 1781 days ago

Sunny skies and 80 degree weather on tap Glenwood this weekend. We'll see you on the river! http://t.co/PgCsjqWS85

- about 1786 days ago

Hope you enjoyed the concert as much as we did! RT @blueskyraft: Heading up to Music on the Mountain @GlenwoodCaverns, see you up there!

- about 1787 days ago

RT @blueskyraft: In case you missed the last photo, here's a shot from Bama's @GoPro. They hit that wave HARD. #POV #Shoshone http://t.co/V2

- about 1789 days ago

In case you missed the last photo, here's a shot from Bama's @GoPro. They hit that wave HARD. #POV #Shoshone http://t.co/V2RFqin1Gq

- about 1789 days ago

The 2013 Rookie Guide Class got a healthy dose of Colorado River today thanks to our River Manager, Bama. http://t.co/glqz7JBjDS

- about 1789 days ago

Get your Shoshone laps in now, this water is awesome. http://t.co/D8aFxEbdSS

- about 1790 days ago

Paddles up! Shoshone is running at 4300 CFS this morning. Big water, big fun! http://t.co/UN6iKHjiiN

- about 1791 days ago

Heading up to Music on the Mountain @GlenwoodCaverns, see you up there!

- about 1792 days ago

@audralynnlove Soon, very soon!

- about 1792 days ago

@blueskyraft wish I was there instead of here http://t.co/yl2nlCPslk

- about 1792 days ago

Great morning riding at Porter Ranch. Ask for Mary's legendary breakfast, you wont be disappointed. http://t.co/OGuYxgPB78

- about 1792 days ago

@blueskyraft Connor? Is that you?

- about 1792 days ago

Heading up to get some morning mountain bike laps up at Porter Ranch. Our bike staff rides hard!

- about 1792 days ago

RT @blueskyraft: Barrel Springs above Shoshone is massive right now. Buckle up and send 'er boys and girls! http://t.co/46ZXegFNRk

- about 1793 days ago

Barrel Springs above Shoshone is massive right now. Buckle up and send 'er boys and girls! http://t.co/46ZXegFNRk

- about 1793 days ago

Beautiful day for a ride in Glenwood Canyon. http://t.co/7FVKt3028w

- about 1793 days ago

"@blueskyraft: Water levels are rising! Time for some Shoshone laps. http://t.co/daVD4gHddw" @katieerickson this Saturday! #shoshonefordays

- about 1794 days ago

Who's down?? "@blueskyraft: Water levels are rising! Time for some Shoshone laps. http://t.co/K6eqFTPXHh"

- about 1794 days ago

Water levels are rising! Time for some Shoshone laps. http://t.co/bwZDk0WfJW

- about 1794 days ago

Stuck in Glenwood? Could be worse. Call us ASAP to arrange a whitewater rafting trip down the Roaring Fork River. #rafting #I70closure

- about 1794 days ago

Thank you @BlueSkyRaft and our guide Luke for a fantastic whitewater trip! Josie still singing Row, Row, Row Your Boat!

- about 2109 days ago

Hey @BlueSkyRaft! We're on our way soon and ready to get wet! How are the water levels?

- about 2117 days ago

@blueskyraft http://t.co/4mo3PqEK

- about 2218 days ago

Check this out. Fun for the whole family. Get out on the river this summer. http://t.co/sc86t0Ak

- about 2234 days ago

Rafting reservations are coming in. Book prior to 5/15/12 for the 2012 season and you'll receive a 15% DISCOUNT! http://t.co/LeJL7vFW

- about 2247 days ago

6" of new snow. Keep it coming!!!

- about 2262 days ago

Just finishing up at the annual CROA convention for 2012. Good show. Lots of new gear. Come rafting with Blue Sky and check it all out.

- about 2263 days ago

Call now or book online!!!!! http://t.co/emZByKDu

- about 2299 days ago

Make a reservation prior to 5/15/12 for the 2012 season and receive a 15% DISCOUNT on any rafting trip!!! https://t.co/fk0EYcfQ

- about 2299 days ago

http://t.co/nSI8U9J ~ Our latest launch!

- about 2439 days ago

http://t.co/Kg95vaw A recent launch from VistaWorks

- about 2451 days ago

Another great new site from VistaWorks - http://t.co/ElDR8o1

- about 2451 days ago

http://t.co/k1SZ2r7 - Recently launched design by VistaWorks!

- about 2451 days ago

check out www.pluggedinproductions.com

- about 2458 days ago

GLENWOOD SPRINGS, COLORADO | VOTED "MOST FUN" TOWN IN THE USA BY USA TODAY & RAND McNALLY. VISIT GLENWOOD AND FIND OUT WHY!!!!!

- about 2464 days ago

LOCALS LOVE US | CHECK THIS OUT: VOTED 2011 BEST RAFTING COMPANY

- about 2466 days ago

http://t.co/LLaFPWL Check out some cool free vintage fonts!

- about 2467 days ago

Check this video out -- Tuesday's Gone - Lynyrd Skynyrd with Lyrics http://t.co/QeCsIU7 via @youtube

- about 2474 days ago

On Thursday, Blue Sky boats floated a total of 360 miles!! As the crow flies, that's the same distance from Glenwood Springs to Yellowstone.

- about 2490 days ago

Log in to TripAdvisor and let us know what you think about Blue Sky Adventures. While you're at it, YELP as well!!!

- about 2498 days ago

Photo of Rafting | Double Shoshone | Shoshone Rapids: http://t.co/OkOlwag (via @TripAdvisor)

- about 2498 days ago

FATHER'S DAY SPECIAL - Dad rafts FREE on June 19th with a group of 4 or more. Call or Book Online and mention this special. 970-945-6605

- about 2499 days ago